Beta Motorcycles was proudly founded in Florence, Italy, in 1905 for building bicycles. Then it started to build motorcycles and since the 1970s it specialized in off-road vehicles becoming one of the most important italian and international factories in the motorsport field, throughout the history. We met an extraordinary Beta Usa athlete, based in beautiful Arizona. National Overall Pro Champion and World Hare and Hound Champion in 2021: he is the Factory Beta racer Joe Wasson and here is what he is going to tell us. 
Hello Joe, at what age did you start riding dirt bikes and why did you choose off-road vehicles? Tell us about your passion.
I started riding dirt bikes at the age of 3. I always had a passion for off-road racing because of the adventure and the unknown obstacles that come with racing across the desert. I have raced professionally for 8 years now after taking a ten year break from racing and riding. I decided when I was 22 that I was going to start racing and it turned into a career very fast. I raced one full year as a privateer (on my own) and at the end of the 2016 year I won the 250 pro championship. Beta Motorcycles (BETA USA) approached me at the end of that year and offered me a career on their factory race team and I accepted. My first year with beta motorcycles during my second race I had a very serious crash and tore my hand off. Luckily I was able to have some of the best surgeons and was able to come back to racing 7 months later. The following year I spent chasing race wins and the overall championship. After a few times of coming very close to an overall championship it slipped out of my hands each time and finally in 2021 I won the AMA National Hare and Hound Championship, which was my childhood dream come true and the first National Title Beta Motorcycles won in America. Needless to say it's been an incredible career and I can't wait to win some more races for Beta! 
We all know about your many victories. Which one was the most remarkable?
My favorite race win was in 2019 when I won my first overall pro win. When you line up with 300-500 people and you come out on the very top it's unlike anything I've felt. Something money can not buy you. I was able to win that race with all my family and friends at the venue in Idaho which is where I'm from so it was very special!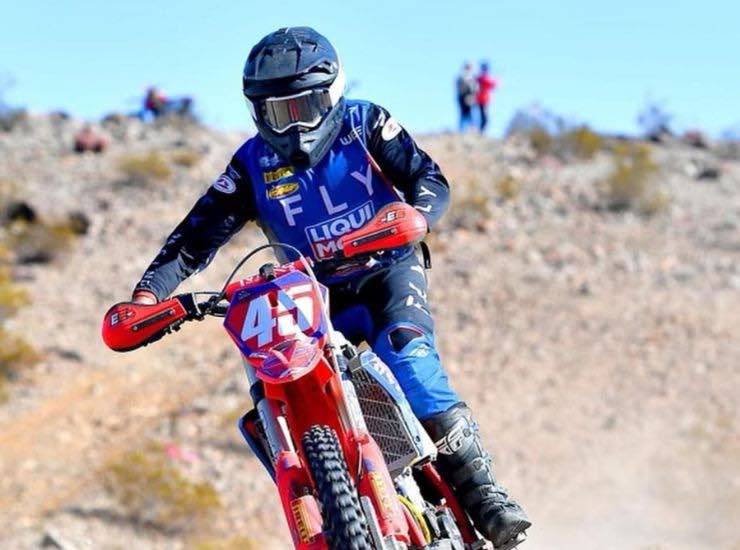 How does Beta differ from other motorsport brands?
Beta is a family owned company and on the smaller side of some of the other brands. But I have been with Beta for 7 years now and the trajectory of the company is so cool to be apart of.
Is there a racer you have inspired in your career? If yes, who?
Not particularly, probably my dad and brother and some friends had the biggest impact just because I was usually the youngest of the groups and I always wanted to prove myself to the older guys and so I always gave it my all around those people so they shaped me into the racer I am today.
In 2017 you had an accident that teared your hand almost off in New Mexico and you did therapy and rehabilitation for about a year and a half before coming back racing. How did you cope with that stop period?
I had a long recovery from that accident. I came back racing in 7 month after 8 surgeries and months of rehab. It was a long mental battle because of how bad it was it was a daily struggle to keep positive and stay focused on coming back. I eventually got back on the bike and came back to racing. I struggled with pain for the next two years of my career though. It was a huge mental battle to push through that pain but I wanted to succeed so I blocked it out and pushed through. I always have this saying I sign on my posters that says "NEVER GIVE UP" which was something I had to constantly tell myself. Overall I think it made me a stronger person!
How much important are your wife and children in your professional context?
My wife and son have been with my since the beginning of my career. We started traveling to all these races with a truck and trailer with a camper and we have now spent 8 years traveling around the USA. They have been a huge part of my success because of how much support they give me. It's been an incredible adventure going to all these places with them.
What are your next goals in terms of sport?
My next Goals are to win the championships for the two current series I'm racing. The AMA National Hare and Hound, along with the AMA West Hare Scrambles series are my current focuses, but eventually I want to pursue the Dakar Rally. I think it would be cool to be the first person for Beta to race the Dakar!