È uscito oggi, venerdì 28 ottobre, in digitale ed è disponibile in rotazione radiofonica "SIMPLY THE BEST" (Epic/Sony Music), il nuovo irresistibile singolo dei BLACK EYED PEAS in collaborazione con ANITTA & EL ALFA!
Il brano anticipa l'attesissimo nuovo album del gruppo vincitore di ben 6 Grammy Awards dal titolo "ELEVATION" (https://blackeyedpeas.lnk.to/ELEVATION) in uscita l'11 novembre e da oggi disponibile in pre-order.
Dichiarazioni di Black Eyed Peas e di Anitta sul nuovo singolo "Simply The Best":
will.i.am: «Per goderti la vita devi vivere nel presente… andando oltre lo stress o le tragedie. Devi essere consapevole che la vita stessa è "Simply The Best"!»
Apl: «Quello che gli ultimi due anni mi hanno insegnato è di non confrontare quello che faccio io con quello che fanno gli altri, ma di essere semplicemente la versione migliore di me stesso e di riconnettermi con gli altri che hanno questa consapevolezza».
Taboo: «Sono grato di essere vivo e di creare ricordi con le persone che amo e apprezzo ogni momento. Questo è quello che ci mantiene ispirati e ci sfida a continuare a tirare fuori la nostra versione "Simply The Best"».
Anitta: «Questa è un'altra collaborazione di cui sono molto orgogliosa. Un ritmo coinvolgente, danzante ed energico. Il mio secondo featuring con BEP! Sarò sempre pronta per loro! È un grande piacere essere di nuovo insieme». 
---
Il nuovo album "Elevation" conterrà 15 tracce, incluso il nuovo singolo "Simply The Best" con Anitta ed El Alfa, e la hit mondiale "Don't You Worry" con Shakira e David Guetta che conta oltre 150 MILIONI di stream e ha raggiunto la Top 3 dell'Airplay radiofonico in Italia e della classifica italiana di Shazam e la Top 10 dell'Airplay radiofonico europeo e della classifica globale di Shazam.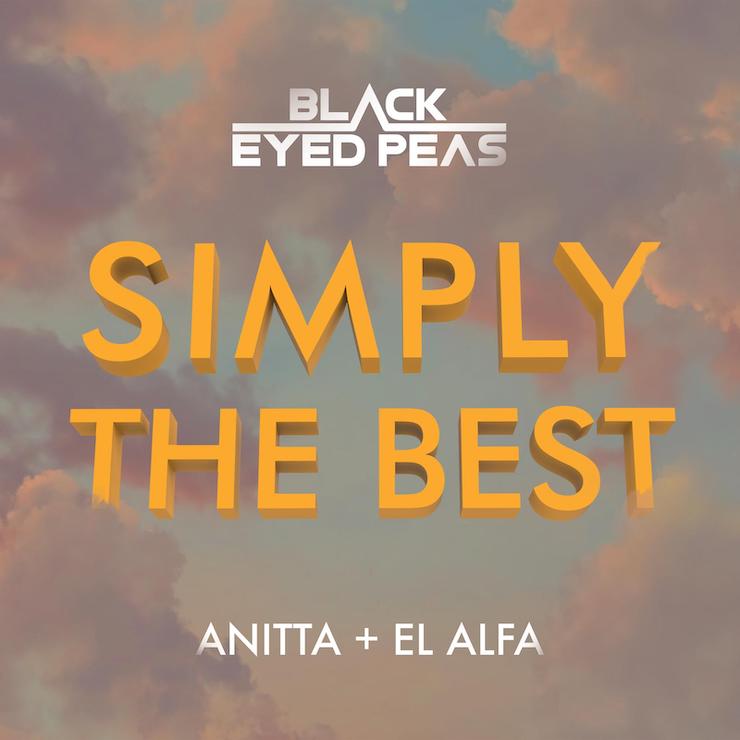 Non solo, al suo interno ci saranno collaborazioni con Daddy Yankee, Nicky Jam, Bella Poarch, Ozuna, Nicole Scherzinger e tanti altri, di seguito la tracklist completa:
"SIMPLY THE BEST" (feat. Anitta & El Alfa)
"MUEVELO" (feat. Anuel AA)
"AUDIOS"
"DOUBLE D'Z" (con J Rey Soul)
"BAILAR CONTIGO" (feat. Daddy Yankee)
"GET DOWN" (feat. Nicky Jam)
"DANCE 4 YOU"
"GUARANTEE"
"FILIPINA QUEEN" (feat. Bella Poarch)
"JUMP"
"IN THE AIR"
"FIRE STARTER"
"NO ONE LOVES ME" (feat. Nicole Scherzinger)
"DON'T YOU WORRY" (feat. Shakira & David Guetta)
"L.O.V.E" (feat. Ozuna)
Ad oggi i Black Eyed Peas hanno pubblicato una serie di album rivoluzionari, a partire da Behind The Front (1998) fino a Bridging The Gap (2000), Elephunk (2003), Monkey Business (2005), The E.N.D. (2009), The Beginning (2010), Masters of the Sun, Vol. 1 (2018) e, più recentemente, TRANSLATION (2020). Hanno stabilito record impressionanti, con 35 milioni di album e 120 milioni di singoli venduti, hanno vinto 6 GRAMMY® Awards e sono stati headliner del Super Bowl.
(Comunicato Stampa di Parole & Dintorni)