"The curse of the crying children" è il titolo di un cortometraggio realizzato da Alessandro Masella e Pietro Cinieri.
Alessandro è diventato noto per il suo cortometraggio "Un Certo Olivier Bécaille" tratto dal romanzo di Émile Zola e vincitore di diversi premi internazionali tra cui il prestigioso "Hollywood International Moving Pictures Film Festival" come miglior corto straniero nell'anno 2017; Pietro ha invece vinto numerosissimi premi con il suo fan movie "The Crow – Shreds of Memories". Dalla loro collaborazione nasce d'idea di poter trasformare in film una leggenda, quella sulla maledizione dei quadri raffiguranti bambini che piangono.
Un cortometraggio di stampo horror, che vuole presentare al pubblico la paura, il terrore insiti nella stessa leggenda, un cortometraggio che ha in sé tante emozioni, e questo è di per sé un elemento vincente.
Tra gli attori presenti nel cast troviamo molti volti noti del cinema indie come: Denis Frison, Giulia Ramires, Alessio Cherubini, Irene Baruffetti, Oscar Stajano, Syria Rosa, Angelo Boccuni, Giuseppe Calamunci e Francesca Scorrano.
La storia parla di Bernardo, un bambino appassionato di pittura che si trova in vacanza con i genitori, e rimane impressionato dai quadri di un venditore ambulante che rappresentano dei bambini che piangono; rimane soprattutto colpito dal volto di una bambina. I genitori acquistano titubanti questo quadro, e da quel momento nella loro famiglia iniziano ad accadere eventi paranormali e decidono così di liberarsene, sperando di poter tornare alla loro vita di prima. Dopo vent'anni Bernardo torna nella casa dove era cresciuto in seguito ad un burrascoso divorzio che gli costerà la casa, il lavoro, ma soprattutto l'affidamento della figlia di soli 3 anni. Qui Bernardo rivivrà tutti i momenti trascorsi in quella casa, e il ritrovamento del quadro sarà la causa di eventi turbolenti.
Un cortometraggio che non è adatto solamente agli amanti del genere horror, poiché vi è presente una storia, quella di un uomo tormentato che non trova una via d'uscita per la sua situazione.
 Una rappresentazione, la loro quindi, non fatta esclusivamente di paura, ma di una serie di fattori che rendono il risultato impeccabile.
Il direttore della fotografia è stato lo stesso Pietro Cinieri, e il cortometraggio sarà girato tra Puglia e Calabria dal 7 al 12 Ottobre.
Ora sta a noi riuscire ad assaporare per pochi attimi tutte queste emozioni in un tempo così breve, e può essere un'esperienza davvero unica.
Il consiglio è quella di gustarla fino in fondo, fino all'ultimo secondo!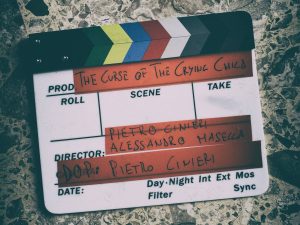 ---
Articolo realizzato da Manuela Ratti